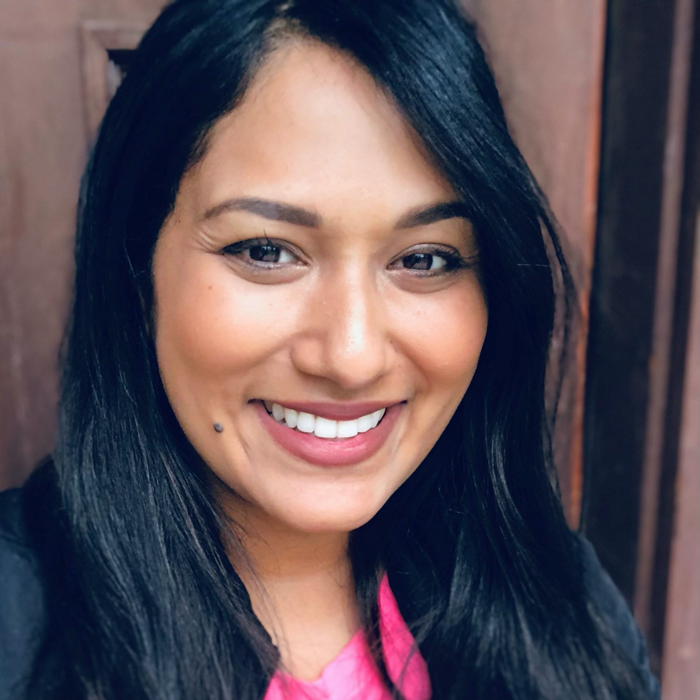 Jitty was newly married, working part-time as an RN, and had just begun her first year of graduate school to become a pediatric nurse practitioner. She spent most of her days focused on the health of others and, at 26, didn't give much thought to her own. But when Jitty discovered a small lump under her breast, that would completely change.
Mind Over Body
Jitty is someone who radiates positivity. She knows that your way of thinking can affect your life not just emotionally, but physically. She says:
"I'm a total believer in mind over matter. When you make yourself think a certain way, your body is going to respond to that."
Just one week before her 27th birthday, this philosophy was put to the test.
When the lump under her breast didn't go away, Jitty made an appointment with her OB/GYN. She still wasn't concerned. She was young and healthy, not the typical demographic for breast cancer patients. But, as a nurse, she knew the importance of checking your symptoms, no matter what they are.
When her doctor entered the office, he was accompanied by two observing residents. Jitty and her doctor were close, and he knew she was a nurse. So, when he felt the lump in her breast, he didn't hide anything from her. He could immediately tell that the lump was not just a cyst; it was definitely a tumor. Whether or not it was cancerous was still up in the air.
Her doctor urged the two residents to examine the lump as well. It was important that they could feel the difference between a cyst and a tumor.
According to Jitty, as a resident nurse or doctor, you're taught to keep a straight face in those kinds of situations. But when the doctor told them to feel the lump—now identified as a tumor—the looks on the residents' faces were priceless. If she wasn't a nurse herself, Jitty thinks she would have been frightened by their reaction. However, she'd been in their shoes and she just laughed—an example of the strength that Jitty is able to find in positivity.
At that point, Jitty had a feeling that the tumor was cancerous and, the next day, her thoughts were confirmed with an ultrasound and a biopsy. They discovered three different tumors in Jitty's breast, all three with different characteristics. It was a rare diagnosis and her chance of pathological complete response was only 2%. But this didn't discourage Jitty. Her response was simply, "I am going to achieve PCR," and she would repeat this affirmation to herself throughout all of her treatment.
Treatment, Support, and Affirmations Affirmed
A week after her biopsy confirmed that the tumors were cancerous, Jitty had her tumor board meeting—a meeting with all the people on her care team. This included everyone from oncologists, to dieticians, to clinical study caseworkers. In other words, it's an overwhelming room to be in when you've only had a week to come to terms with the reality that you have cancer.
This was the first of many instances that Jitty needed to lean on a support system—her husband. Their vow to love one another in sickness and in health was tested sooner than they could have imagined. Jitty says that in one year, she and her husband learned more about each other than most couples do in ten years.
Jitty was never in denial about her diagnosis, but at the time of her board meeting, she wasn't ready to dive into all the research. Sometimes, staying positive means knowing when to guard yourself against information that may be harmful, or that you're not quite prepared for. Luckily, Jitty's husband did the research for her, learning what he could within a week, and reading as many articles as he could find. When it was time for the meeting, Jitty says her husband:
"…came in with his little yellow notepad and all his journal articles, and he asked all the right questions. He did so much work for me in the beginning, which is awesome."
The meeting helped determine Jitty's treatment plan which would consist of chemotherapy—four rounds of Adriamycin and Cytoxan, the Red Devil, and then twelve rounds of Taxol. She also opted for a complete bilateral mastectomy with reconstruction.
The Red Devil was the hardest part of Jitty's treatment, as it is for most patients. She recalled how quickly the side effects came and how she lost her hair within 48 hours of treatment. Still, she remained positive. She and her husband would pray together frequently. She believes that prayer and meditation are what got her through the hardest of it. When it came time to start the Taxol, she barely experienced any symptoms. In comparison to the Red Devil, Taxol was easy.
Throughout treatment, Jitty's husband remained as her primary support, but he's not the only support she had. Along with her husband, family, and friends, Jitty was lucky to meet two young women at the treatment clinic who were also breast cancer patients. Jitty says they were "a great encouragement for one another." It was great to have other young breast cancer patients to talk to about the things that are more difficult to discuss with people who haven't been through it. The three women would text each other to ask about symptoms, what products they recommended, and how they were dealing with things like hair loss and surgery.
Support can come in many forms, and they all work differently. Together, they can make all the difference in someone's cancer journey. For Jitty, support came in the form of an incredible husband, friends, meditation, and prayer.
With all her support, her amazing doctors, and the right treatment plan, Jitty was able to achieve her goal of pathological complete response.
"'I'm going to achieve PCR.' I think that positive affirmation that I kept on telling myself…my body just responded to that."
She beat the odds and six years later, Jitty is still cancer-free. She is now well into a ten-year treatment of tamoxifen and continues to radiate beautiful positivity.
Lasting Effects: Fertility, Body Image, and Life After Treatment
One of the biggest challenges that young breast cancer patients like Jitty have to face is fertility preservation. It isn't something that the typical 27-year-old has to think much about, but a cancer diagnosis changes that. Suddenly, Jitty had to decide whether to undergo fertility preservation.
At her tumor board meeting, she was presented with two options: she could freeze her eggs or undergo ovarian suppression. Because two of Jitty's tumors were fed with estrogen, freezing her eggs was not an option. Freezing eggs requires taking lots of hormones, including estrogen, which could have worsened her cancer. Ovarian suppression comes with its own severe side effects, which would just pile on top of the symptoms already caused by chemotherapy.
Together, Jitty and her husband decided that fertility preservation was not right for Jitty. Her husband told her:
"I want you to be healthy. And we can figure out how to have children later on."
For Jitty and her husband, Jitty's health was most important. They wanted to do everything they could for Jitty to achieve PCR without losing her positive personality to extreme side effects. Unfortunately, fertility preservation did not fit into Jitty's treatment plan. She says:
"I did tell myself I was going to give that 10 years of that tamoxifen. And then we can definitely try or adopt down the line. So that's our plan. And I was happy that we kind of made that decision in the beginning."
Another thing that breast cancer patients have to deal with is their body image after cancer. Jitty opted for a complete bilateral mastectomy with reconstruction. She also had her nipples removed and then tattooed. Additionally, after breast cancer treatment, patients are usually left with scars, even when they do not choose to do a mastectomy. Regardless of your treatment, breast cancer changes your body. But those changes aren't negative. Jitty says it like this:
"I was really hesitant to wear tube tops, or bikinis, or anything like that because you have so many scars on your body. But, you know, in the end, it's just a good reminder that you were in a battle, and you won, and you're continuing to fight, and it's just good. It's a good feeling."
Mind over body, even when the body goes through changes.
Jitty was able to continue going to school during treatment and today, she works as a pediatric nurse practitioner in an emergency room and private practice. She and her husband have been married for nine years. They recently moved into a new house in Michigan, close to family, and live there with their dog, Penny.
Jitty's Advice for Breast Cancer Patients
When it comes to fertility, Jitty wishes she would have been presented with more options before she began treatment. She encourages young women to ask those questions and any other questions they have. Her advice is:
"Ask questions. There's never a dumb, stupid question. The more you ask, the more you know, and the more comfortable you become with your treatment plan."
Jitty also stresses the importance of having a good support system, someone or a few people that you can turn to, no matter what. She also believes that it's essential to have faith, whether it is in the form of religion, spirituality, faith in yourself, faith in your doctors, or all of those things. She simply says:
"Just have faith over fear."
Breast cancer is scary, but with positivity and loving support, you will be able to get through it. Jitty is amazing proof of that.
You can connect with Jitty and other patients like her via BCPC. Sign-up now to find more positivity and support, and to share your own story. Your story can become someone else's support.
*This content is not intended to be a substitute for professional medical advice, diagnosis, or treatment. Always seek the advice of your physician or other qualified health provider with any questions you may have regarding a medical condition.
×
You must be logged in to subscribe this topic, By following, you can get an email notification whenever there is activity in this topics.